International Music Festival "Musical Holidays in Piatra-Neamț" Issue No. 41, July 6 to 12, 2014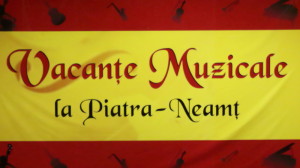 With forty-one years of history Music Festival "Musical Holidays in Piatra Neamt" gets from one edition to another a brand that has evolved in pace with the times, while the symphonic choral concerts were joined jazz recitals or pop music, and for more than ten years has become a traditional folk evening.
Besides this cultural act itself offered to music lovers, this important Festival turned Piatra Neamt city into a real "music capital" of the country.
"Musical Holidays in Piatra Neamt"  draws like a magnet, in this period of summer, music lovers, and visitors from different corners of the country, be they artists, music critics, composers, music students and students of institutions of higher education, or simply amateurs.
Neamt County Council through the Centre for Culture and Arts "Carmen Saeculare" chosen as venues for this year at Bell Tower Little Plaza, arranged in a special way and the room Calistart Hogaş Neamt from County Council, where music lover public heard a repertoire based on professionalism, diversity and accessibility.
Sunday, July 6th at 21.00 hours, the Opening Ceremony was held in Bell Tower Little Plaza where the Royal Chamber, Simina Croitoru soloist, conductor Adrian Grigore Constantin, delighted the audience.
presenting a symphonic concert including works by Pablo de Sarasate, Bela Bartok, Offenbach, Tchaikovsky, Brahms, Mozart.
Monday, July 7th, at 19.00 hors,  in hall "Calistrat Hogaş" was "Neamt Young Musicians Evening" with Raluca Ouatu piano and from 21.00 o'clock in the little square tower, the festival continued with "Traditional music night "in which Artistic Ensemble" CiprianPorumbescu" Suceava, conductor Viorel Leancă, presented a program of songs (soloists -Margareta Clipa, Dana Dăncilă, Nicolae Vieru, Sorin Filip, Rodica Andronic, George Finis, Lucica Paltineanu) and dances from Moldavia choreographed by George Palaniuc.
Tuesday, July 8 at 19.00 was "Evening Of Chamber Music", held in the hall "Calistrat Hogaş". "Transylvanian Quartet" from Cluj Napoca presented in front of a packed hall, a program that included works by Mozart, Dvorak, Massenet, Elgar, Kriesler and Romanian folk Suite in musical arrangement of Nicuşor Silaghi. Starting at 21.00hours, Bell Tower Little Plaza hosted the "Evening of jazz", where Mircea Tiberian and his guests had a jazz program called "Jazz and Beyond", which enjoyed a large audience applause
Wednesday, July 9th, at 19.00hours in hall "Calistrat Hogaş" we could watch "Higher Institutions Evening of Music" where the festival organizers, as in previous editions have proposed to offer young musicians the stage for asserting artistic. Thus, students from George Enescu University of Arts Iasi (Alin Dănăilă-class conf.univ.dr.D.Iosub and Florin Leonte-class Dorel Baciu), from National University of Music Bucharest (Stephen Voinic- class Nedelciu DR.I., Laura Şandru-class G.Croitoru and Cristina Ordean-class conf.univ.dr.F. Ionoaia) and from Gheorghe Dima Music Academy Cluj-Napoca (Marian Balan Viorela Filimon, Ani Gaidarova, the guitar class lecturer Dr. C.Andrei and Julia Toma – univ prof Dr A.Berea class) accompanied on piano by associate Professor Verona Maier, presented a varied applauded program"Evening fanfare music" originally scheduled Piaţeta Tower at 21.00 was held in the hall "Calistrat Hogaş" because of the rain. Bringing public attention remained fanfare genre, military music of Brigade 15 Mechanized "Podu Inalt" Iassy directed.by plt. adj. pr. Marius Chiriac, presented the audience savvy, diverse and attractive program of marches, waltzes, songs and melodies from operettas, of which did not missed "Concert March" which opened the evening, waltz "Waves of the Danube", signed by Joseph Iovanovici "Songs of the Operetta" Horia Ardeleanu, "Trish Trash Polka" by Johann Strauss, "Samba medley" by Cristian Firca or "Working in areas of Wallachia" by L. Mendelsohn, all rewarded with a round of applause by virtuosity thrilled audiences by military instrumentalists, bringing back into focus the need to presence of this musical genre in the musical life of the city, as part of summer attraction.
Thursday, July 10, at 19.00, was the evening of choral music held in room "Calistrat Hogaş" in wich the choir room "Cappela Transylvanica" from Cluj-Napoca, conductor and lecturer. Ph.D. Rodica Trandafir offered the audience achoral program signed by Maurice Ravel, Nicolae Ursu Constantin Rapa, Vasile  Spătărelu, Augustine Bena, Robert Schumann, Gabriel Musicescu, Orlando di Lasso, Adrian Pop, Pierre Certon.
Friday, July 11 evening masterclasses take place in room "Calistrat Hogaş" where the most talented pupils and students, guided by Marin Cazacu and Verona Maier, support work rather works of art, works of great composers such as Bach, Vivaldi, Paganini, Beethoven and others. From 21:00 Millenium band from Moldova delights audiences  and exudes a sense of well by the audience.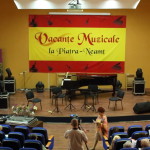 Saturday, July 12, Evening Music Opera Philharmonic Orchestra "Mihail Jora" of Bacau, closes this edition of  Music Holidays in Piatra Neamt. Famous names such as Cristian Lupeş (conductor) and Iulia Isaev (soprano) with students singing masterclass held a program overtures and arias from famous operas signed by Wolfgang Amadeus Mozart, Vincenzo Bellini, Giuseppe Verdi, Giacomo Puccini, Jules Massenet Georges Bizet.