Vasile Găman museum – Vânători-Neamţ
12 August 2014
No Comment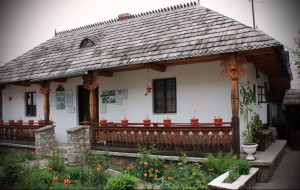 In 1979, were for the first time opened the doors of the Museum "Vasile Gaman" from Lunca village, Vanatori commune, Neamt County. The museum is a traditional house specific of these places. In Love with all that means folk art, the passion urged Vasile Gaman to collect rare objects that punctuate the history.
Vasile Gaman is not only a collector, but also a skilled sculptor.. He sculpts wood for a life, witness the gates of the house-museum wich are carved portraits of Burebista, Decebal, Traian, Stephen the Great and Michael the Brave. "in the sculpture I tried to relate the moments of Burebista and to this day," says Vasile Gaman
The collection includes nearly 3,000 pieces made or collected over time. Here can be seen very old farm tools, manuscripts, icons painted on wood, costumes, pottery, masks, medals and decorations, all reminiscent of traditions, customs and events that have marked the area.
The Museum "Vasile Gaman" can be reached by car in Targu Neamt on DN15B: exit to Vânători Neamt Targu Neamt, about 4 km from Targu Neamt. Lunca Village is on the right side of the road, on the shore of the river Nemtisor. Visiting hours are daily and Găman master will be glad to cross his threshold and tell you stories of what and how it was.