Sugau Keys
16 September 2014
No Comment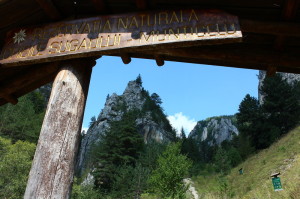 Monument of nature located in National Reservation Sugau Key – Munticelu, delighting the eyes of the hiking lovers.
Bicaz affluent, Sugau is the creek that over time eroded limestone cliffs and formed amazing keys over a distance of almost 300 meters.
The view is great and it is impossible not to be overwhelmed by the beauty of the place, the waterfalls that tumble downstream water, mouths gaping dark caves underground, the massive rocks sometimes approaching approximately one meter above the water, on which are hung roots trees.
Climbing the ridge Munticelu-Criminis you get a unique show of shapes and colorsof shapes and colors: rocks, trees, meadows with rare flora.
You should know that limestone formations in Sugaului Keys are unique in Europe. Și dacă mai spunem că aici întâlnim capra neagră, râsul, pisica sălbatică ori liliecii de peșteră, cred că v-am stârnit curiozitatea pentru a vizita Rezervația Naturală Cheile Șugăului- Munticelu.
And if we say that here we encounter chamois, lynx, wild cat, or bat cave, I think I aroused curiosity to visit the Natural Reservation Şugău Keys – Munticelu.