The Dendrological Park from Roznov
24 September 2014
No Comment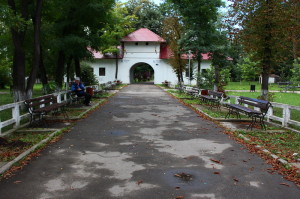 Access road: Piatra Neamţ – Dumbrava Roşie – Săvineşti – Roznov pe DN15 / DJ156A or coming from Bacau on DN15. The park is situated in the immediate vicinity of a roundabout from the center of the Roznov city.
The town`s name come from the german syntagm "rosen Hoff", meaning "The Garden with Roses" which was first pronounced "Roznou" and finally "Roznov".
The park has an area of 3 hectares that unites species trees: oaks, beech, chestnut, rare species of wood: silver fir tree – abies alba, white pine – pinus strobus, and Japanese acacia – sophora japonica, yellow acacia – laburnum anagyroides, acer, elm, pine.
In the Dendrological Park from Roznov is the "Roznovanu House", a true castle which belonged to Gheorghe Ruset Roznovanu (1834 – 1904), officer, politician and philanthropist, that founded the firs school in town (then village), the railway Bacau – Piatra Neamt and the Roznov Station. Also here are Roznovanu Inn Cellars dating from the seventeen century.
Saint Nicholas Church, known as Roznovanu Church, is unique in Romania, built in Russian style between the years 1890 – 1892, by Russian architect Nikolai Vladimirovich Sultanoff. The church has the bells that play a song who sounds a unique Greek – Russian melody, ordered by Roznovanu Colonel.
"Gheorghe Ruset Roznovanu" Museum was set up in the year 2002 in the basement of the church, were are displayed objects from the church and Gheorghe Ruset Roznovanu personal objects.
The Hero Obelisk from the russo – Turkish war (1877-1878) was erected in the year 19098 by  Vicenzo Puschiasis and is classified as a public monument.
So, when you are going through Roznov, the youngest city from Neamt County, we urge you to make a stop for a walk through The Dendrological Park.