Bicaz Keys – overwhelming landscape
6 November 2014
No Comment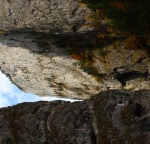 Situated on the DN 12C Bicaz – Gheorghieni, immediately after the town Bicaz keys, the Bicaz Keys, stretched out over a distance of almost 8 km, connects Neamt and Harghita counties and is one of the most spectacular and attractive tourist areas of the country,
All the way from Bicaz Keys is formed by streamers, after every curve you find landscapes of a rare beauty. The eyes follows water, that is jumping foamy over the rocks, her sping fills our ears with sounds of small waterfalls, then climbes to dazzling heights, watching every corner of rock. Limestone walls of rocks hide caves (Cave Black – 35 m length, Cave Falls – 69 m) and potholes (Licas, Pothole with three entries).
All small watercourses affluents of Bicaz are in turn, other keys: Lapos Keys, Sugau Keys, Bicajel Keys. From the spilling of Bicajel creek in Bicaz creek, it begins the most spectacular area of the Keys over a length of about 1 km. We will be able to admire The Hell Neck slipped between The Surduc Stone and The Bardos Wall, or The Altar Stone – 1154m, the most imposing rocky massif of Bicaz Keys, The Pinteşti Stone – 847 m, The Heat Stone – 835 m, The Surduc Stone. Taking your breath away, The Gate of Stone and Bardos Shelves are so close together that the sun does not pass between them. On some rocks are marked trails for the climbers. În păduri viețuiesc cerbul carpatin, căprioara, capra neagră,  mistrețul, ursul brun, lupul, pisica sălbatică, râsul, iepurele, acvile de munte, cocoși de munte, alunarul, uliul păsărar, mierla, corbul, dar și vipere și șerpi de alun, iar în apele repezi ale Bicazului și afluenților lui se găsește păstrăvul de munte. In forests inhabits the Carpathian stag, the deer, the chamois, the wild boar, the brown bear, the wolf, the wild cat, the lynx, the hare, the mountain eagles, the grouse, the dormouse, the sparrowhawk, the blackbird, the raven, but also the vipers and the hazelnut snakes, and in the fast waters of Bicaz and its tributaries is mountain trout. From the plant species we encounter the fescue, the hazelnut, the lady's slipper, the marigolds, the brave`s blood and the Gentiana lutea, and in the clefts of the rocks, the edelweiss.
Bicaz Keys are part of National Park Bicaz Keys – Hășmaș.
The Wilderness of the Keys, the massiveness of the limestone cliffs in which the road winds through, calls to run through all this road to discover the wonderful and staggering landscapes that you can photograph overwhelmed by their beauty, an invitation not only for tourist from the country and abroad, but also for climbers.