Youth Theater in full season
20 January 2015
No Comment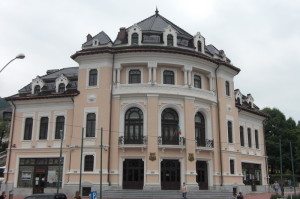 2014-2015 season, with the number 57, officially opened on Saturday and Sunday, 27 and 28 September, with the show "A … box", a successful comedy very popular by public, collective creation after Ion Creangă, directed by Alexandru Dabija, developing postmodern, the events of "Old man`s daughter and old woman daughter" and "The bag with two pennies". The show was awarded with the distinction of "Best Show" within the National Comedy Festival in Bucharest. For the second part of October,18th  and October, 19th , a surprise to people from Piatra Neamt was the premiere of "Wickedness of Scapino" by Molière, directed by Alexandru Mâzgăreanu. Recall that the premiere of " Wickedness of Scapin " was held on May 24, 1671 at Palais-Royal, Paris, Scapin's role being played even by Molière. For Youth Theatre, "Wickedness of Scapin" was the first performance of his repertoire played on October 3rd , 1958, directed by David Esrig, scenography S. Briss.
The Following first two artistic projects are scheduled for November and belong to directors Horațiu Mihaiu (show on a text by Daniil Harms) and Razvan Muraru (show by the play "Anatol" by Arthur Schnitzler).
Also, this fall, the band TT honor invitations to participate in important festivals in the country:
– International Theatre Festival STORIES, Alba – Iulia, with the show "A … box. (October 2nd)
– Theatre Festival for Young Audiences, Iasi, with the show "Against love" by Esteve Soler, directed by Bobi Pricop presenting a world made up of dismantled meanings and assembled by the rules at the absurd limit, populated by beings with a cranky spiritual body. (October 11th )
– National Comedy Festival in Galati, "Diary of fools" a show after Chekhov and Gogol, directed by Louise Dănceanu, a show about the madness that invades our daily, wearing the face of banality. (October 27th)
– European Theatre Festival EUROTHALIA Timisoara, with the show … A crate. (November 9th).