Museum of History and Archaeology from Piatra Neamţ – Exhibition Royal Collection of silver and base metal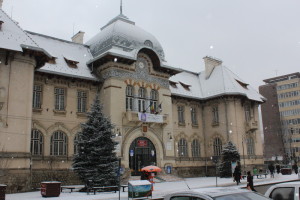 We have the extremely rare opportunity to enjoy at our home, in Piatra Neamt, until 18th of February 2015, the exhibition entitled suggestive Silver and base metal collection of the National Museum Bran, held at the Museum of History and Archaeology, by care of a group of curators led by Mrs. Dr. Mihaela Verzea, exhibition curator. From the hundreds of pieces of a great diversity collected by Queen Mary and other members of the royal family, some of them bearing the monogram of Queen, located in Bran Museum collection, are exhibited approximately 130 objects that present the historical evolution of metalworking from XV-XX, made ​​in workshops from Transylvania, from The Romanian Country, from Russia, from Western Europe and from the Orient. You can admire them in all their splendor decorative objects, utilitarian objects and worship, made ​​of porcelain, pottery, iron or bronze, decorating the interiors of residences of the queen, various silver jewelry, or silvered brass, watches mini collection or keys collection. All these exhibits are part of the national heritage.
The exhibition, which is dedicated to the celebrating of 80 years of the museum and of the National Day of Romania, can be visited until February 18th , 2015, every day of the week, between 9.00 – 17.00, except Monday, when the museum is closed. Visiting fee of the exhibition (individual or group) – 2 lei. Picture and video fee – 10 lei.