Mini-holiday of May 1st in Neamt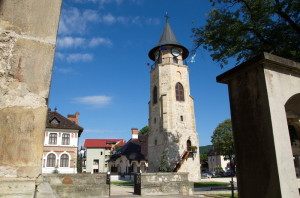 The Day of May 1st, International Workers' Day, a time confiscated to celebrate the work by working, is slowly regains significance and party habits. Since ancient times this day marks the Armindeni (popular name of the 1st of May). It was considered as the first day of spring, in wich the work was stopped for earth to rest, for multiplying flocks and herds, a day when it was customary that householders get out in clearings and terraces from the village surroundings for rustic celebration. They eat well and drink red wine in which they put wormwood, so feast Armindeni used to be called The Wormwood Day.
This year, May 1st is on Friday so may be three days of vacation that everyone can use, whether to relax, to charge with new energy, or to enrich with memories, or to cultivate on the field of culture. For instance, a get out on marked trails of Ceahlău from Izvorul Muntelui Cottage, from Durău or from Bicazu Ardelean, or from Neagra, it would be great to spend time in the fresh air of the mountain. For a circuit by car, you can establish a route from Piatra Neamt to Targu Neamt (Museum Ion Creanga, Neamt Fortress) to Bison Reserve and Carpathian Fauna Dragos Voda, from Vânători Commune. Then to Nemţişor, Museum Sadoveanu, Neamt Monastery and further, towards monasteries Secu, Sihăstria, Petru Vodă, Poiana Largului, Bicaz.
Tourists will find enough places to stop for rest, recreation or picnic at one of the guest houses on the route.
Those who do not want long routes, a walk through Piatra Neamt following itinerary Stefan cel Mare Park, Stefan cel Mare Street, Zoo Park, Outlaws Huts, The Terrace of Housewives, would be one of the proposals another would be to pass the Bistrita on Caprioara bridge or on Gangplank, to stroll and dine at green grass in the Youth Strand or do sports on arranged grounds for football, tennis, volleyball, basketball. Some of you may go to Bâtca Doamnei in chaise or horses riding from Horse Base. In those days all museums are open, waiting for you with their permanent exhibitions. For all you, Youth Theatre and Horse Base have prepared some surprises, so Youth Theatre awaits you at a A missed a show , Saturday, on May 2nd at 19:00 (Studio Room) and Sunday, May 3th, the collective creation after Ion Creangă,  A… box (Great Hall) at 19.00. Horse Base Virgil Bărbuceanu awaits you on May 3th at 10:00 am at the Official Opening of the competitive year that will be marked by an equestrian show held in the arena, and another, musical choreographic watched on scene.
Have a May 1 spent in understanding and peace!