Monastic Museum of Agapia Monastery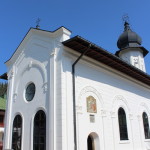 How many gold and silver jewels of inestimable value were stolen by the Ottoman besiegers and other predators from our churches and monasteries throughout hundreds of years, we cannot know, since they were melted and turned into "rascal" silver and gold. Nuns and monks of those places have worked with accuracy others and more beautiful, hardworking and skillful with their hands, and today we can admire them in the monastery museums.
Treasure from the Agapia Monastery highlights artistic activities cultivated here over the centuries, such as: embroidery, plasty metal, the art of the canonicals manufacture and the art of weaving carpets. In a room of the Museum, dedicated to these activities are exposed, for example, canonicals, robes, embroidered pieces and handmade carpets by nuns, which completes the museum's collection. Among the pieces exhibited in the their hall at the Agapia Monastery Museum are, in the first instance, icons. There are icons painted in tempera on wood, some silver framed, icons painted on glass, ouches for the Gospels, candles, candlesticks, crosses for table, and other jewels church, all belonging to the eighteenth and nineteenth centuries.
Agapia Monastery Museum, the first monastic museum of Moldova, excels with the 29 works with the signature of painter Nicolae Grigorescu, exposed in a room dedicated to the painter, works created between 1858 – 1860, when he painted the monastery church. In the museum exists a hall dedicated to Romanian writers of classics literature who passed by Agapia, have written about Agapia, or have lived in the monastery.
Agapia Monastery boasts that it is the only one that has an interactive museum, The Museum Vivant arranged in 2013 in a monastic house about 350 years old and renovated as a museum vivant and also guest house where the nuns can be seen as live their life as working in the Potteries, weaving, painting, bakery workshops.
The exhibition spaces where are all these wonderful masterpieces are so arranged that enables the visitor to contemplate at leisure, to linger in front of each exhibit in order to understand the atmosphere of the time in which they were created, and not least, to participate with nuns within the Museum Vivant to a lesson of authentic Orthodox Christian spirituality specific to Romanian people.