Feast of Whitsuntide in tradition of Neamt County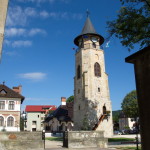 This year, we had at Whitsuntide, again a mini-vacation over three days, between 30th of May to 1st of June.
Whitsuntide, the feast dedicated to the cult of the dead, is taken over from Romans by Dacians. Once they have converted to Christianity, our ancestors celebrated – The Descent of the Holy Spirit – which falls just ten days after Ascension and 50 days after Easter. Over the centuries, the two holidays were merged into one. The feast is celebrated on Sunday. Saturday morning, day called The Big Old Men, are commemorated the dead.
On this day of Whitsuntide (The Descent of the Holy Spirit), linden leaves and branches (symbolizing the tongues of fire descended upon the Apostles) which are brought to church by believers to be consecrated, are taken home and placed besides the icons and doors since it is believed that guard the households of lightning, hail and evil spirits, and with the holy water that were consecrated, we sprinkle the field to be fruitful!