Fishing on Lake Bicaz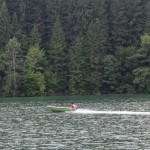 Starting 15 June, is opening the fishing season on rivers and lakes in România. All fish are caught after a skilful fight between them and  fisherman Who's smarter? On Izvorul Muntelui Lake is fishing from motorboat or rowing only, or from the shore. Fishermen know the places and place their tent while preparing their arsenal of rods and bait for perch, carp, bleak, trout, bream, chub, crucian carp and so on. Right on this time the bream is at stake and if I am lucky to place through which passes any herd, i will catch an old one !, says an avid fisherman. What are the fishing places, we ask. It depends on what you want to catch. For deep-water fishes, the best places would be plateau of Poiana, the banks of Călugăreni, Buba, Spranga, Valea Rotarului, Chirițeni, Hangu, Grozăvești or at Baicu, where bream shoot. The most populated places is where you see the fishermen setting up tents for weeks before the spawning are locations from Baicu, from viaduct (lake tail, as locals and fishermen call ) and from Ceahlău villages, Buhalniţa, Hangu, Potoci, so you need to make your reservation early for a good spot to catch fish.
So that, to everyone, we launch the calling: Come to Izvorului Muntelui Lake a  rich lake not only in fish but also beauty unforgettable landscape.
We wish you all, by now, stretched wire!