Goşman Forest Reserve, Brateş fauna Reserve, Waterfalls and Keys Bolovăniş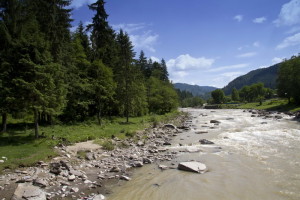 Goşman Forest Reserve, Brateş fauna Reserve, Waterfalls and Keys Bolovăniş can be targets for hiking on weekends.
On the left side of the creek Goşmanu, where meets with creek Tarcău, uphill from the village Ardeluţa, the side of a mountain starting from the height of about 700 meters up to 1300 meters, with inclinations of up to 45 % is  Goşman Forest Reserve . It is an old forest, a veritable thicket of over 170 hectares, predominantly spruce, beech and fir, with specimens that are passing of one – two hundred years, some with a diameter of one meter and a half and with height over 50 meters. Among them are also found elm, mountain ash, yew, sycamore. Here's the homeland of the lynx, because they are the most numerous of carnivorous that are swarming through virgin forest (bears, wolves, otters). Among plants, besides beautiful Campanulas blue as the sky, are meet Făgăriţa, Liverwort (Three Wise Man), rare as Edelweiss, and also Quail Wheat. Reserve has scientific value, landscape and social-education.
If we continue our journey on Tarcăul Valley, climbing the mountain on the forest road and the route marked, we reach Brateş fauna Reserve, where we can admire capercaillies. These birds are very scared, they feel any movement in the forest. Only during the mating season, which begins in mid-April and ends in mid-May, enables us to get closer to the cocks, sneaking, however, behind the tree trunks. Then the capercaillie calls his girlfriends (hens) with a specific sound. Swelling up in feathers, they show them their tail in fan and the beauty of their colorful feathers. At that time, the capercaillie for a few seconds, no longer sees and hears. This moment should not be missed. Besides capercaillies, which are the most numerous, in reserve can be seen rare species of birds but also important mountain flora of the region.
We are not leaving Tarcău Valley until we do not see a wonder of nature. You will need to follow the path of the forest road Bolovăniş, because, one of the rivulets that is flowing into the creek Tarcău, Bolovăniş, at about 5 km ahead, is forming a waterfall of a stunning beauty, Bolovăniş Waterfall. Going to the shedding over just 2 km we will enter in the Bolovăniş Keys which are dug by the creek water in hone of Tarcău, forming landscapes of rare beauty, on a distance of about 3 km.
After all this, we will return home richer spiritually, with lungs refreshed by the best air in Romania (if you did not know) and with a lot of pictures and unforgettable memories!