New Season at the Lido Piatra Neamt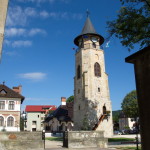 From 1st o June 2015, the Day of the Child, Youth Lido opened! Fun train is waiting every weekend between 10 to 20 hours, in the station of Strand Tineretului and leave on the following route: Strand-Telegondola –Youth Theatre-Zoo-Store Petrodava-Strand. The ticket costs 5 and between 12-16 hours, children can get a free ride with the train.The pools full of water are waiting for us, sports fields and playgrounds for children are prepared. This season the entry fee at the strand has the single price of 1 leu! The tariff at the pools is 12 lei and parking costs 1.50 lei / hour.
We inform tourists who are visiting our city, that the Strand Tineretului has 10 cottages in Malibu Section (double rooms with bathroom and living room) and 3 houses in Ibizza (bathroom and hallway), 150 lei;  29 houses in Riviera and 11 houses in Roland Garros (with shared bathroom) at a price of 50 lei; Parking is free during stay. There are restaurants and terraces.
Inside the complex are: three tennis courts (to which entry is 20 lei / hour and 25 lei / hour floodlights), for which you can rent tennis rackets (10 lei / hour) and Tennis ball (5 lei / hour), three tennis tables (10 lei / hour), ping pong paddle (5lei / hour), two football fields with artificial turf (for large field, 75 lei / hour, small field, 40 lei / hour ) the latter can play volleyball or basketball (30 lei / hour). For badminton court is not charge any price. The blades and flyers are available at reception. You just to leave an ID.
Also, within the complex exist a park of about 250 sqm with free access, where you can practice skateboarding, roller skating and biking.
A special attraction of the complex is the Riding school of Horse Base Colonel Virgil Bărbuceanu, where enrollments are of the age of 7 years old. If the students pass the tests, they receive diplomas.  For information and appointments call phone. 0233.217.167 or 0749.07.74.73.
We wish you all a longer stay, summer sun and fun to the max!