Roman Days, 14th to 24th of May, 2015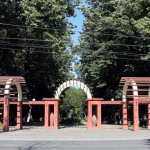 The sixth edition of Days of Roman, held between the days 14th to 24th of May this year, included cultural and educational and various sports activities. In this edition they have been opened in the city center Traditional Products Fair and Craftsmen Fair.
The program of events dedicated Roman was followed with great interest by a large audience who applauded participants in organized competitions:  Contest of conductors from theological education institutions in Moldova, dedicated to the Melchisedec Stefanescu Days, fifteenth edition, General Knowledge Contest from the Library Roman, Hope for tomorrow, now in its thirteenth edition, Vintage Costume Parade, Historical Skits Contest or Contest of relay race.
Of a large participation have enjoyed the vernissage of Documentary Exhibition St. Antimis in the history of Archdiocese of Roman and Bacau, from the History Museum, and symposiums românirii Hypostases of the romanianization of the pew chants and Franciscan priests imprisoned for their faith , Moodle National Conference on Education – First Edition, Vasile Sav Technology High School, Teaching with educational software, e-learning blend, book launch Father Dumitru Stăniloae – the founder of the confessionaling theology in contemporary (1903-1993). Also, very appreciated were Classical Music Concert held at the Archdiocesan Cathedral by The chorals reunited of the theological education institutions from Moldova, then the show performed by students and teachers within Sergiu Celibidache Art School, and the show School of the agents by Theatrical Company Voua, from the Culture House.
Within the shows held in the center of the Muşatin city have performed numerous and famous folk and light music singers, who were joined by some local talent, being all applauded at open stage. Neither theater lovers have been forgotten: between 22 and 24 May, people of Roman and their guests, could watch with great interest, the shows presented by the theater troupe of Roman, Medgidia, Brasov and Lugoj within the National Festival of Amateur Theatre from Military Circle.
All evenings within Roman City, ended in song, dance and fun!