Spend a day in Piatra Neamt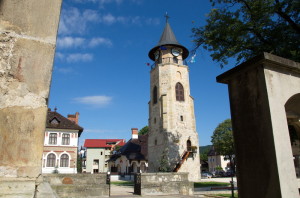 The tourist resort of national interest, Piatra Neamt is located about 300 meters above sea level and has, through alignment, the characteristics of a true fortress. The city is surrounded by hills covered with mixed forests giving their colors, always different every season, with heights between 300 and 850 meters, with true bastions role: Pietricica at east, at south Cernegura, at west Bâtca Doamnei with Petrodava vestiges and Carloman, at north Cozla (on which top arrives the telegondola, where is also Trei Caldari, ski slope and chairlift). The city enjoys Bistrita river waves – with two artificial lakes (Bâtca Doamnei and Reconstructia), true deltas for migratory birds that can be admired anytime. When you get here, in any way, in any season you come, you will find a clean city, festively adorned. No wonder, several decades, Piatra Neamt has acquired the nickname of Pearl of Moldavia.
An effervescent cultural life is being held in the provincial city: numerous shows performed at the Youth Theatre, exhibitions at the Art Galleries or in museums, film and music festivals that take place here.
Town localization in the mountain area has oriented the priorities of ​​development towards tourism. Youth Lido with swimming pools, with sports grounds, with ice rink, with bowling, with restaurants and terraces, with rustic cabins equipped with everything you need, where you feel like the seaside, the base horse where takes place riding competitions at national and International level and wich offers the pleasure of trekking on horseback or by carriage, telegondola which crosses the city, ski slope and ski lift are facilities where tourists can thrive.
We must not forget the themed events that gathers extreme sports lovers like hard-enduro or skateboard
The city in the foothills, with 3 and 4-star hotels with fancy pensions, Pearl of Moldavia, waiting for you every season.