Vovidenia Hermitage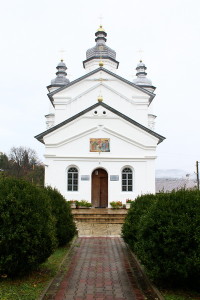 Vovidenia Hermitage is an Orthodox Monastery in Neamt County, located in Vânători Neamt, at 17 kilometers west of Targu Neamt on the road leading to the monastery Neamt, more precisely, two kilometers southeast of the famous monastery in a magnificent glade surrounded by mixed forests.
It is a wonderful place of prayer dedicated to Entry into the Church of Our Lady, which has over 300 years old. being part of the historical monuments being in the national heritage. By the beauty of these places was attracted too, Mihail Sadoveanu. The house where he lived temporarily is organized as Memorial House Mihail Sadoveanu that is managed by the hermitage.
Today, in the Hermitage Vovidenia are kept a few old icons, pots and cult objects made of silver, a large number of prints from the printing presses of Neamt who together speak about the existence of an active church life lived in the monastic community.
So, remember, when you are in transition to Neamt Monastery, visit the hermitage Vovidenia!