The Vânători Neamţ Natural Park, from Neamț County
18 January 2018
No Comment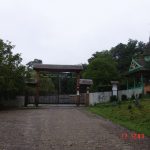 The Vânători Neamţ Natural Park
Stretching on 30,818 hectares, of which 26,300-hectare forestry fund, the park encompasses remarkable cultural and historical values partly highlighted on our way. Three natural reservations, imbibed with legend and natural charm welcome the visitor: "Codrii de aramă" (common oaks), "Pădurea de Argint" (birches), and the oak reservation "Dumbrava", which contains secular oaks, between 150 and 200 years old, the only oaks grown in Romania at an altitude of 450 m.
The Dragoş Vodă Auroch Reservation
Once an iconic component of the Carpathian wildlife, the auroch is the largest land mammal in Europe and after having left this habitat as early as 1800, three of them were brought back to this land in 1970, two years after the reservation was set up. Currently, thirty-one aurochs live here – male and female – twenty-five of which being integrated in a wild-like breeding programme. The reservation also contains all species of Carpathian fauna, as well as an equally representative plant life.
Photo Album
Video