Welcoming spring in Neamt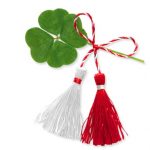 The tourists who come in Neamt at the end of March or even at the beginning of April will be surprised to see gardens decorated with trinkets (Romanian "mărţişoare"), in some places.
Mărţişor celebration (on March the 1st) is a rooted tradition in Neamț. The custom is more than 2000 years old.
The trinkets, which are considered a herlad of spring, usually consist of a tiny adornment tied with a red and white entwined string. The Moldavian ethnographers tell that the trinkets used to be offerd to young fellows by young unmarried women, but always in a mutual exchange. This is happening according to an old custom, known from ancient times. The red and white twisted string is said to symbolize love, health and purity.
The elders  say that in the past the trinkets were firstly given to children, but also to young people and especially to girls, women, seldom to older people. The string tied to the trinket was initially made of wool  and later of hemp threads, flax and cotton or silk.
According to another Moldavian custom, the children used to wear the trinkets at their hand, the girls used to hang them as a pendant, the young men placed them at their hats and old people would wear trinkets on the coats. The villagers say that people also used to hang trinkets at the cows, in order to keep them healthy and increase welfare.
The trinkets are worn during the entire month of March, as a sigh of health, luck and protection, then the trinkets can be hung in shrubs or fruit trees as apple-trees, cherry-trees, apricot-trees or rose-trees, even in grass, signifying passing safely over winter and welcoming spring. Therefore, the locals would decorate their gardens with trinkets after wearing them all March long, convinced of their function as a charm.
Photo gallery: