Neamţ County – a living history in pages of literature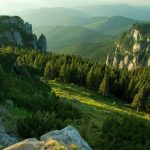 Neamţ County – a living history in pages of literature
Land of beauty and wonders, Neamt County seems taken from one of Mihail Sadoveanu's tales: "After God separated the waters from the dry land and after wrinkling the earth, He began the impartion of gifts to all lands. He gifted the sea, silky and blue to some of the lands, He sat other realms with tall mountains, covered with snowy white coats, He covered some lands with
fields of gold, above all of these placing the high heavens. But there was an empty place left, which He had either forgotten, or had overloooked in the first place, before the wrinkling of the earth. Then He took from each, not much, just as much to fill a land that you would walk afoot one day and one night with full moon." And what could be more appropriate to fit that description than the lands of Neamţ County, where all the beauties of nature were harmoniously dispensed and intertwined, so that Neamţ County became the miniature image of Romania, on a scale of 1/40?! Here you come across mountains, hills, plains, waters, meadows, stunning gorges, the famous land of the auroch, intricate caves and ancient forests, but also a sea in miniature – Izvorul Muntelui Lake.
Photo gallery:
Also on these lands, beautiful monasteries and hermitages are hidden in the heart of the wilderness, while Ceahlău Mountain and Neamţ Monastery stand as landmarks of the ardent faith of the Orthodox people living here.
Photo gallery:
Memorable pages in history were written by the fearless people of these places, the soldiers of Stephen the Great and later, the mountain hunters who succeded in defending the county's borders with conviction and unwavering faith.
What is more, we must say that all the four fundamental myths of Romanians are well represented in the folk tales of Neamţ County: the myth of foundation, the myth of creation through sacrifice, the mioritic myth and the myth of the incubus.
Also in Neamţ County can be visited the Memorial House of Ion Creangă -an emblematic figure in Romanian literature and storytelling- in Humuleşti village. What is more, visitors can delight passing through the "Silver forest" or "Copper forest" –famous eminescian expressions that have determined -like nowhere else in the world!- the creation of natural reserves.
Photo gallery:
For all these and many more reasons Neamţ County is the most common Romanian land in pages of literature. Neither the Balkan Bucharest, nor Târgovişte -the old capital of the Wallachian country-, nor even Alba-Iulia -citadel of great historical significance-, did not inspire and fascinate as the Neamţ County did, throughout time.
Photo gallery:
Thus, Neamţ county becomes a living history of Romanian literature, with works by representative authors like Dimitrie Cantemir, Gheorghe Asachi, Costache Negruzzi, Alecu Russo, Alexandru Vlahuţă, Mihai Eminescu, Ion Creangă, Gabaret Ibraileanu, Calistrat Hogaş, George Coşbuc and Mihail Sadoveanu. All of them have mastered the beauties of these lands, the spectacular nature, the hospitality and warmheartedness of the people living in Neamţ, in literary works of great value: "Memories from childhood", "The hatchet", "On mountain roads" or "Adela". Not to mention the Western authors such as Alexandre Dumas or Jules Verne, thus making the "bibliography" grow substantially at the level of an impressive, universal library.
Presentation of Neamt county:
References:
Monography of Neamt County
Edited and coordinated by: Adrian Alui Gheorghe, Ghe. Dumitroaia, Viorica Gheorghe Fărţală, Daniil Harasemiuc, Cristian Livescu, Ioan Onisei, Lucian Strochi (Neamţ County Council and
Neamt County Museum Complex)
PANTEON Publishing House, Piatra Neamţ, 1995