Free like a bird – flying over the lands of Neamţ
28 August 2018
No Comment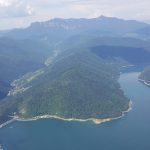 Free like a bird – flying over the lands of Neamţ
In Neamţ County, a private aeroclub gives anyone the opportunity to become a licensed pilot for motodeltaplane. Located in Girov, just 12 km away from Piatra Neamţ, AVIASPORT organizes courses and flight trips with an instructor certified by the Romanian Aeronautical Authority in the field of motodeltaplanes.
Participants say that flying is the most beautiful and exciting experience they've ever had. The testimonials of club members and students speak for themselves. They say that, from up above, everything looks different, the nature reveals itself in all its grandiosity and magnificence. The entire experience is nothing but overwhelming, the club members being able to discover, by flying, the unspoiled, unexpected beauty of landscapes.
Photo gallery:
Flight courses can begin once the medical record is obtained. At least 25 hours of flight along with hours of theory are compulsory. After the completion of the courses, the examination takes place in Ploieşti. Therefore, adrenaline lovers who have obtained their pilot license, can explore high-altitude tours.
In Neamţ county all landforms and especially impressive mountain lakes can be seen. Here, you have the opportunity to fly above the mountains, glide over the hills, plains, lakes and rivers, meadows, dizzying gorges Cheile Bicazului, Cheile Şugăului, Cheile Bicăjelului), thick and dark forests. Also, you will be able to admire from high above the "sea between the mountains" – "Izvorul Muntelui Lake". In Neamţ county the nature's beauties harmoniously blend, as if they were distributed by the exact proportions. Flying over these landscapes is truly a unique experience you will certainly want to repeat as soon as possible.
Photo gallery:
Aeroclub members say that flying at an average speed of 80 kilometers per hour is very close to the birds` flying speed, which makes you feel flying like a bird.
The representatives of AVIASPORT in Neamţ collaborate with other instructors from the neighboring counties in order to make it easier for those interested to obtain the pilot license and other categories of ultra-light aircrafts licenses.
Photo gallery:
Other AVIASPORT aero club activities include ATV rides, motorcycle rides, climbing the tyrolean, parachuting, rental of aircrafts to licensed pilots, etc.
For more information on pricing and organizing courses, please contact:
Iulian PĂRĂOANU – President of AVIASPORT, pilot and flight instructor
Tel: 0743 49 60 90
e-mail: [email protected]