THE STAR WITHOUT A NAME, a theatrical show long applauded by the audience in Piatra Neamţ
23 January 2019
No Comment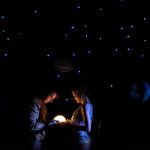 THE STAR WITHOUT A NAME, a theatrical show long applauded by the audience in Piatra Neamţ
THE STAR WITHOUT A NAME, the first theatrical premiere of 2019 at Youth Theater, played in the evenings of 19th and 20th January, was highly appreciated by the audience seated on stage, nearby the actors. The show consists of a non-verbal performance after notorious Mihail Sebastian's play, directed by Alexandru Mâzgăreanu.
In an extremely ingenious way, the director chose to further explore and develop fragments from the original play, a directorial technique which impresses through the details of the stage construction and the expressivity of the acting, pointing with laser-like precision the atmosphere of the small human community, suddenly struck by a Revelation.
Photo gallery:
Mihail Sebastian's play reenters Youth Theatre's repertoire after a first representation in 1964, in which young actors Virgil Ogăşanu and Dionisie Vitcu were cast. Throughout the actual show, the psychological profiles of the community members are build-up in detail, with great subtlety, each one with his or her own fears, automatisms of thought, but especially hidden desires and aspirations, because each character, although captive in a rigidity that recalls absurdity, viscerally longs for change, for being seen and loved. It is these contrasts that give the intensity of the play, and the emotion transmitted from the stage ultimately overwhelms the audience.
Photo gallery:
Compared to the first performance in 1964, Mihail Sebastian's play becomes, in 2019, a suggestion for a new theatrical vision expressed through non-verbal language, assumed by talented director Alexandru Mâzgăreanu.
The show is of great impact as it blends in a natural flow the perspective of closeness in character building (with focus on details) with the perspective of distance in terms of human ideals (suggestion which is impeccably rendered on stage), recalling the famous replica of Peter Brook: "A play has to render both the closeness of reality and the distance of myth, because if there is no distance you aren't amazed, and if there is no closeness you aren't moved."
A spectacular show of great courage and an impressive display of acting skills that ties the spectator to the chair because of the insinuating charm of original decors, video projections and musical illustrations, "THE STAR WITHOUT A NAME", the latest production of Youth Theatre, invites you to become an active part of the cultural act itself, through emotional involvement and reflection. Especially reflection. So, come to the theatre if you want to be surprised!
CAST:
Professor: ANDREI MERCHEA ZAPOTOŢKI
The Unknown Lady: CRISTINA MIHĂILESCU
Miss: ECATERINA HÂŢU
Mister: MIRCEA POSTELNICU
A retiree: GINA GULAI
The second retiree: CĂTĂLINA IEŞANU
The third retiree: LOREDANA GRIGORIU
Head of Station: DAN GRIGORAŞ
Head of Station's Aid: EMANUEL BECHERU
A dreamy student: CĂTĂLINA BĂLĂLĂU
An industrious student: CORINA GRIGORAŞ
Postman / A dangerous gentleman: VALENTIN FLOREA
Directed by: Alexandru Măgagăreanu
Set design: Raluca Alexandrescu
Costumes: Alexandra Mâgăgăreanu
Video editing: Mihai Păcurar
Choreography: Attila Bordas
Music: Alexandru Mâzgăreanu
Assistant director: Petruţa Pavăl
Photo gallery:
RESTRICTED TO ADULTS 16 YEARS AND OVER
Next performances will take place on the 3rd and the 15th of February 2019
Location: Youth Theatre
Great Hall, with audience on stage
Ticket price: 24 lei/seat
75% discount for pupils
50% discount for students and retirees
Ticket agency program:
Tuesday-Friday: 11-12 and 16-19
Saturday – Sunday: 16-19
Closed on Monday
Phone: +40.233.211.036, +40.752149735
E-mail: [email protected]
Official website: http://www.teatrultineretului.ro/
You can book your seat at the phone numbers above or send us an e-mail at [email protected]. Please keep in mind that, for the booking to be valid, you must pay your tickets 24 hours before the show.