Şugăului Gorges in Neamţ County
24 September 2009
No Comment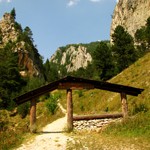 Explanation: The Şugăului Gorges are rock formations and the people are walking through them.
Location: Cheile Şugăului – Şugăului Gorges are located in the upper part of the village Bicaz Chei, at 8 km from Red Lake, on the left side of the brook Bicaz.
Short description
Şugăului Gorges are a protected area and it's an area well known for the rock formations encounter here that are in the shape of a canyon of 350 m with a few small waterfalls. This, together with the mountain Munticelu represents a natural wonder of rare beauty because of the uniqueness of the natural heritage.
Until the road on the valley Şugău was built, the only way the locals could get to Barnadu was through the gorges. To make it easier, the people built a wooden bridge from transversal beans that represents a true masterpiece of traditional architecture. At the entrance in Bicaz Gorges, across the road from Şugăului Gorges, we can see the Rock of Stan, which is a thin rock formation.


Photo Album
Click the images for a a larger version