Icoana Hermitage – Neamt County
24 September 2009
No Comment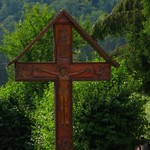 Icoana Hermitage is located in the village Vanatori at 6 km from the Neamt Monastery
Address: village Vanatori, Neamt County
The patron of the hermitage: "St Antonie the Great"
Year of the construction: 1823
Short history
The Icoana hermitage is located in a dense forest in the north of the Neamt Monastery. Between 1821 and 1822, because of the Eteria, the monks hide the icon of St Mary – this icon was a gift received 600 years ago. After 1822 the icon, together with some other objects, were moved back into the monastery and on the place where they stayed they built a wooden cross painted by Agapie, as a reminder of what happen there.
The Icoana hermitage was founded in 1823 by a monk, by his name Iosif Craciun, that left from the Vovidenia Hermitage, together with David Budascu and Galaction Hoisa. The patron of the church is The Birth of St Joan the Baptist.
After the year 1900, the church from the Icoana Veche Hermitage was rebuilt. Today here live only two monks. Because of its isolation this place is one of the few in the country where the monks still live like in the old days.
Read more information about Neamt Monastery (history, attraction points, images, video and its hermitages).