Dumbravele Monastery – Neamt County
24 September 2009
No Comment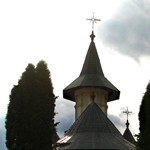 Location: Dumbravele Monastery is located in the village Oslobeni, 27 km south of Targu Neamt and 23 km north of Piatra Neamt
Address: Oslobeni, village Bodesti, Neamt County
The patron of the monastery: "St Petru and Pave", celebrated on 29 of June and "The Birth of St Mary" celebrated on 8 of September
Year of the construction: built between 1994 and 2002 by the abbot Pavel Todirita
Short history
Dumbravele Monastery has its origins in a hermitage built in 1712 by some monks, in the middle of an oak forest. The name of this forest was Dumbrava and hence the name of the hermitage and later on the monastery Dumbravele.
Initially the church was built out of wood. In 1900 were built the cellars and the bell-tower. Starting with 1991 the hermitage was under the Bistrita Monastery. In 1993 a fire burn the place to the ground and the only things that got away were the icons.


In 1993 the reconstruction of the church will begin with the abbot Pavel Todirita. In 1994 he manages to lay down the foundation of the new church. In the year 1998 the new church is finished and between 1998 and 2002 was painted.
The hermitage Dumbravele was transformed in a monastery in the day of its sanctification.