Petru Voda Monastery – Neamt County
24 September 2009
No Comment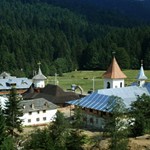 Location: You can reach Petru Voda Monastery by following the road DN 15 B from Poiana Teiului towards Targu Neamt. From Valea Largului there is a 10 km dirt road that goes to Petru Voda monastery. The pilgrims that reached Bicaz by train can also travel by bus.
Address: sat Petru-Vodă, village Poiana Teiului
Tel: +(40) 233 25 70 03 or +(40) 233 25 84 73
Fax: +(40) 233 25 72 57
E-mail: [email protected]
Web:www.petruvoda.ro
The Patron of Petru Voda Monastery: "Sfinţii Arhangheli Mihail şi Gavril – Archangels Michael and Gabriel " (8 November)
Year of construction: the end of the XX century
Short history of Petru Voda Monastery

Petru Voda monastery was built at the end of the XX century with the help of the people living the village Petru Voda. The local authorities offered the land where the monastery is built. Although here there never was a monastic settlement with an old tradition, in the year 1990 they received approval to build the monastic complex from Petru Voda.
In the year 1991 they began to raise the buildings under the guidance of two monks from Secu Monastery. One of these monks is the former abbot Iustin Parvu which is considered to be one of the great religious man still alive in Romania.
In the year 2003 they began the construction of the church from Petru Voda moanstery with some craftsmen from Maramures (a region from Romania well known for its wooden sculptures). The church is decorated on its exterior with architectural elements from Maramures and on interior with Byzantine paintings.

Images from Petru Voda Monastery, Neamt County
Beginning with the year 2005 the new abbot of Petru Voda Monastery is father Lavrenie Carp Lucian – he came to this monastery in the year 2003. Here we can also find a retreat house for old people, a foster house for abandoned kids that is also an elementary school for this kids and a medical facility.


At Petru Voda monastery we can see the tomb of father Gheorghe Calciu Dumitreasa: he is the one that stood beside father Iustin in all the years when he was imprisoned in the communist regime.