Razboieni Monastery – Neamt County
24 September 2009
No Comment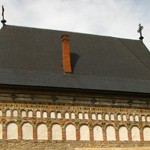 Razboieni Monastery is located in the village Razboieni, at 25 km from Piatra Neamt and 35 km from Targu Neamt.
Tel: +(40) 233 29 29 12
The patron of the monastery: "St Mihail and St Gavril" celebrated on 8th of November
Year of the construction: built in 1496 by Stefan cel Mare
Short history of Razboieni Monastery

Razboieni Monastery was built by Stefan cel Mare in 1496, two decades after the battle from "Valea Alba" Valley. The church is actually a mausoleum, the only one of its kind from Romania, specially built to host the bones of the Moldavian fighters that died for their country fighting with the Turks at Valea Alba Valley.


Over time the church from Razboieni Monastery suffered few interventions, but between 1975 and 1977 it returned to its original shape. The diggings from that period revealed under the stone floor the existence of a thick layer of human bones. On the south wall of the monastery Stefan cel Mare placed a description of the battle from Valea Alba.

Images from Razboieni Monastery
From an architectural stand of point the church is built on a rectangular place with thick walls of over 1 m. the church combines the gothic style with Moldavian architectural elements.
Razboieni Monastery represents one of the greatest heritage values that stand over time as a symbol of the sacrifice for freedom and their country of these people.