Tarcau Monastery – Neamt County
24 September 2009
No Comment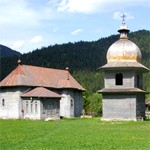 Tarcau Monastery is located on the Tarcau Valley, at 43 km from Piatra Neamt, between the villages Brates and Ardeluta. You can reach the monastery by following the road that starts in Tarcau from the National Road that connect Piatra Neamt to Bicaz.
Address: village Tarcau, Neamt County
The patron of Tarcau monastery: "The Sunday of all Saints"
Year of construction: built in 1833 by Avramie
Tarcau Monastery: short history

The church from Tarcau Monastery, that bares the patron "The Sunday of all Saints" was built in 1833 by Avramie. From the start, the church received forests and mills as a gift to help the 20 monks here. The bell-tower was built in 1868 and the cells were remade between 1967 and 1968.

Tarcau Monastery – Neamt County: photos
The church is built out of wood, with no towers and on a small scale. The wall that separates the altar from the rest of the church is sculpted on lime wood. The icons are the original ones from the beginning of the XIX century. The church is well preserved. The bell-tower is also made out of wood and it has two levels.