Tazlau Monastery – Neamt County
24 September 2009
No Comment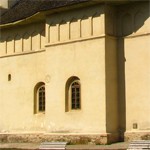 Tazlau Monastery is located at the foot of the hill Magura Tazlaului at 36 km south of Piatra Neamt
Address: village Tazlau, Neamt County
The patron of the monastery: "The Birth of St Mary Mother of Christi" celebrated on 8th September
Year of construction: built in 1497 by Stefan cel Mare on top of a wooden church built by Alexandru cel Bun
Short history
The monastery from Tazlau is first mentioned in a document from 30 October 1458, when Stefan cel Mare re-enforces the walls of the monastery. Between 1496 and 1497 the stone church is built on tops of the old wooden church built by Alexandru cel Bun.
From an architectural stand of point, the church from Tazlau is built on a cross shape plan, of small size. Just like a fortress, the church was surrounded with thick stone walls. In 1514, the church was robed and towards the end of the XVII century will be dedicated to the Patriarchy from Constantinople and Jerusalem – this is the period when the spiritual and economical value of the church will be diminished.

Photos of Tazlau Monastery, Neamt County
The ruler Petru Rares built the tower bell from the entrance and some restoration of the entire complex. In the XVII century, arhimandrit Zaharia built the abbot's house near the tower bell. Between 1858 and 1859 a series of restorations were made on the monastery which lead to some changes in the original shape of the church. The painting from inside the church was also remade.


In the year 1879 a fire will destroy all the monastery. The architectural complex was rebuilt in 1894 as a simple church. The tower bell was rebuilt in 1902 with some Russian influences. The entrance in the monastery is in the form on an arch under the bell-tower. In the interior we can still see the remains of the houses and cellars.
Starting with the year 1990 the church becomes a monastery again and returns to its original destination.