Pocrov Hermitage – Neamt County
24 September 2009
No Comment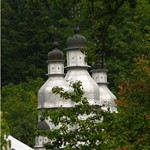 Pocrov Hermitage is located in the village Vanatori, 17 km west of Targu Neamt and 62 km from Piatra Neamt. The road that goes from Neamt Monastery to the hermitage is full of beautiful and calm scenery.
Address: village Vanatori, Neamt County
The patron of the hermitage: "The Cover of St Mary Mother of Christ"
Year of construction: 1714, built by Pahomie
Short history
Located in a forest with old trees, at approximately 4 km south-west from the Neamt Monastery, the Pocrov hermitage was built in 1714 by Pahomie and his apprentices: Sofronie, Mardarie, Lazar, Dosoftei and Ioanichie. The Pocrov hermitage also called "The Haven's Plane" represents a true place of peace where many monks lived a calm yet harsh life.


From an architectural stand of point the church has three towers from which only one connect with the interior with an inner arch. The church was built from wood on a stone foundation. The wall that separates the altar from the rest of the church it's ornate with wooden sculpted flowers. Among the heritage objects of great importance that we find here, we can talk about some old icons and crosses (from 1802), a belt from Jerusalem from 1785, books from the XVII – XIX centuries, a grail covered in gold from 1804 and the icon of St Mary from 1856.

Pocrov Hermitage, Neamt County
Today, here at the Pocrov hermitage we can find the abbot together with 9 monks that are living in prayer and in peace with God.
Read more information about Neamt Monastery (history, attraction points, images, video and its hermitages).