The Art Museum from Piatra Neamt
24 September 2009
No Comment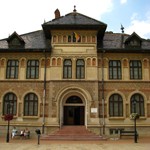 The Art Museum is located in "Curtea Domneasca" Complex, Str. P-ta Libertatii no1,Neamt County
Tel: +(40) 233 21 68 08
Founded: 1980
Category: Art
The Program for Visits:
daily: 09-17  (October – March)
10-18 (April – September)
Monday: closed
Short description
In the year 1960, the first art collection was founded in the Archeology Museum Neamt. Only in 1980 this collection becomes the Art Museum from Piatra Neamt and it becomes a separated institution. The building in which the museum is located was built in 1930 by Italians Carol Zani and Vicenzo Puschiasis. Here we can see an exhibit of ethnographic art and traditional art (textile, ceramics, furniture) which illustrates the habits and the clothing from this area.
The museum represents a panoramic vision of the evolution of art (painting, graphics, sculpture, tapestry) made by Romanian artists at the end of the XX century. In works of sculptors Ion Irimescu and Ion Jalea, painters like Gh Petrascu, Fr Sirato, N Tonitza, Corneliu Baba we can see the period between the two world wars – a period marked by the incidence of the European currents evolved in the XX century.

Photos from The Art Museum from Piatra Neamt
Among the special objects exhibit here we can list the creations from the Tapestry Room that belong to Aurelia Vasiliu Gheata, born in Piatra Neamt in 1896. These tapestries are created by using a traditional technique, inspired by the traditional art and the medieval mural painting.
Also, we can see paintings from the painters: Ion Sălişteanu, Iulia Hălăucescu, Dan Hatmanu, Eugen Crăciun, Simona Vasiliu Chintilă, Spiru Chintilă, Ion Gheorghiu, Corneliu Vasilescu, Ilie Boca and sculptures made by: Iulia Oniţă, Nicolae Fleissig, Ovidiu Maitec and Clement Pompiliu. All these works of art talk about the Romanian art, with its different orientations and original plastic visions.