Baltatesti Resort – Neamt County
24 September 2009
No Comment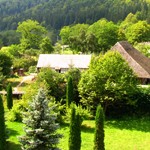 Contact information:
– address: village Baltatesti, Neamt County
– tel: +(40) 233 24 40 17, +(40) 233 24 40 18, +(40) 747 59 88 30
– fax: +(40) 233 24 40 77
– E-mail: [email protected]
Location: the Baltatesti Resort is located at 34 km from Piatra Neamt and 11 km from Targu Neamt, in the center of the village Baltatesti. The resort is located in a beautiful natural landscape and it's known for its mineral waters with a high content of salts that have therapeutic effects.
The first mention of the Baltatesti resort is at the beginning of the XVIII century because of its mineral waters chloride, sulphate, iodic, brominated with a concentration up to 280 g/l and the fresh air. The altitude of the resort is 475 m. The resort started in1810 because of Prince Cantacuzino who realized the potential of these waters.


In the year 1878, doctor Dumitru Cantemir will buy the resort. After his death the resort was sold in 1920 to doctor Goldhamer – he will rebuild the installations and will provide medical care here. Starting with the year 1948 the resort is the property of the Romanian State. In 1970 the resort enters a process of modernizations and expantion.
Over time, the analysis performed by U. Chihac, Franz Humael in 1939, Petru Poni in 1850, Stenner si Kony in 1883 confirmed that the waters from Baltatesti are the richest in salts from the entire Europe. The water from Baltatesti was awarded with gold medals in Paris in 1900 and Bucharest in 1906.
Today, the resort Baltatesti has 4 hotels and can accommodate 500 tourists. The treatment base has 75 cabinets.
The therapeutic indications for the waters found at Baltatesti are for: stress, diseases of the locomotor system, gynecological disease, chronic respiratory and associated disorders.
Photo Album
Click the images for a a larger version