"Padurea de smarald" – The Emerald Forest – Neamt County
24 September 2009
No Comment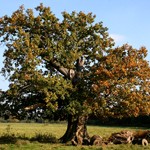 Location: "Padurea de smarald" (The Emerald Forest) is part of the Vanatori Natural Park and is located on the valley of the creek Neamt.
Short description
The Emerald Forest, also known as The Oak Reservation Dumbrava, covers 56,5 ha and it's formed of old oaks with an age between 150 and 200 years.
This natural reservation is impressive because of the look of the old oaks. The flora is quite rich and consists in 209 species of plant that belong to 50 plant families.

The Oak reservation Dumbrava, Neamt County