The Episcopal Cathedral St Parascheva from Roman
24 September 2009
No Comment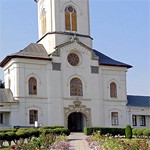 Address: str. Alexandru cel Bun nr.5, Roman, Neamt County
Built: between 1542 – 1550 by Petru Rares and his son, Ilas
Short description
The Episcopal Cathedral from Roman of which patron is St Parascheva was built in the XVI century and over the time was restored few times without affecting its original architectural shape. These days the church is really impressive because of the inner paintings that were made in three stages: in the centuries XVI, XVIII and XIX. Only the entrance and some of the interior places still keep the original painting of a church that is more than 500 years old. Here we can see some unique paintings of St Parscheva, the protector of the Moldavian region from Romania.
The monastic complex also has a chapel, the cells, buildings for offices, the bell-tower and the Episcopal Palace that was built in 1870. The bell-tower was built in two stages, in the centuries XVIII and XIX. This last construction has 5 levels, where the first two are hosting the Episcopal archives and the following three are home for over 20,000 books.
The bells from the tower are almost ancient. The most interesting ones are three of them marked by the ruler Stefan the Great.
The Episcopal Cathedral from Roman is a historical and architectural monument of great importance for our culture and history. Because of this architectural complex the entire area was raised as a place of culture and as an economical center.
Photo Album
Click the images for a a larger version