The Equestrian Complex from Piatra Neamt
24 September 2009
No Comment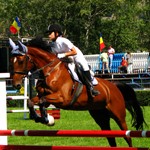 Location: The equestrian base Col. Virgil Barbuceanu is located in Piatra Neamt, in the area called Peste Vale (translation Over the Valley), inside the public swimming pool. Together, the swimming pool area and the equestrian base form a wonderful complex to relax, enjoy some sports or just go for a swim.
Tel: +(40) 743 111 616 or +(40) 745 861 035
Short description
The equestrian base from Piatra Neamt is considered to be the most beautiful one in the country because of the scenery and how it's built and maintained. Founded in 1986, in a place surrounded by beautiful hills with green vegetation, the equestrian base is a real attraction point for tourists and for those that want to practice the sport of ridding.
The base is under the administration of two clubs, The Equestrian Sports Club and the Sport Club TCE 3 Pines, together with the support of the Local Council and few sponsors. The complex is a modern one and it has top conditions for horses to grow and fully develop. This is the reason for organizing here the World Cup for Jumping over Obstacles.
Here you can see 30 horses, some of them having national and international fame because of their results in different competitions. We can talk here about the horse Violet, a pure English horse that won the Olympics in Moscow or about The Indian, a Holstein horse, unique in Romania.
Everyone can participate to classes on how to ride horses. The program also includes Touristic Rides and Rides with the Carriage.
During the summer you can go on mountain ridding with horses specially trained for this kind of routes. Specially for kids they have a pony, so it doesn't matter if you are big or small: you'll have a great time here and something to tell your friends about.


Photo Album
Click the images for a a larger version