The Memorial House of Alexandru Vlahuta from Agapia
24 September 2009
No Comment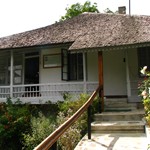 Address: village Agapia, Neamt County
Tel: +(40) 233 66 21 36
Founded: in the year 1958
Category: Memorial Museum
Program for visits:
daily: 9-17 (October – March);
10-18 (April – September)
Monday: closed.
Short description:
The house in which the writer Alexandru Vlahuta was born and raised is located in the monastic village Agapia that also hosts the Monastery Agapia. With the occasion of celebrating 100 years from the birth of the writer, in the year 1958, the house was arranged and inaugurated as a memorial museum.

Photos from Alexandru Vlahuta Memorial House
The museum was arranged in those few rooms that the house has and the main focus was to maintain a specific atmosphere of that era in which the writer lived. The exhibition is formed by the original furniture, books from the personal library of the writer, personal artifacts, magazines from the time, letters and manuscripts that belonged to the writer. The house was built with a large porch where took place literally meetings.