The Memorial Museum Ion Creanga from Humulesti – Neamt County
24 September 2009
One Comment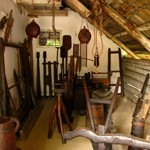 Address: Str. Ion Creanga no 8, village Humulesti, Neamt County
Tel: +(40) 233 66 33 20, +(40) 233 79 06 20
Founded: 1951
Category: Memorial Museum
The Program for the Visits:
daily: 9-17 (October – March);
10-18 (April – September)
Monday: closed
Short description
I think that first of all we should say something about Ion Creanga: he was the greatest storyteller that ever lived in Romania. His stories are the fantasies of our childhood: we dream of the withe horse and to the prince that conquers all difficulties. We think about the man that is so tall it can reach the moon or the man that is so cold it can freeze everything around him just by sneezing. The house were Nica (nick name of Ion Creanga when he was a small boy), the son of Stefan a Petrei was born was built in 1830 by Petre Ciubotariu – the grandfather of the storyteller. Up until 1951 the house remained a heritage of the family: something passed from a generation to another. Zahei Grigoriu was the one that donated the house to become a museum.


The memorial house became shortly after, one of the most visited memorial houses in the area. It represents a typical monument of traditional architecture with a narrow porch made out of clay and other traditional elements. In the back of the house we see, under a shelter made out of boards a few objects used around the house or in agriculture – the ethnographic value of these objects is priceless.
Photo Album
Click the images for a a larger version
Click here to see all the photo albums
The interior of the house is formed by two simple rooms that express the common sense and the modesty of the people that lived there. Here we can find the oven and the pillar of the chimney where we can still find the piece of rope where the cats used to play all day long – this is one of the stories depicted in the greatest book of Ion Creanga, called "Memories of my childhood".
Here, in the house, we can see a sculpture of Ion Creanga, the book of prayers that is mentioned in his book, 14 works of art made by Eugen Taru, used on the 1959 edition of "Memories of my childhood".