The Monastery from the Ceahlau Mountain
24 September 2009
No Comment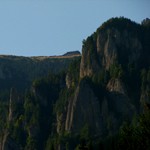 Location: The church is situated on the Mountain Ceahlau at an altitude of 1770 m
Address: village Ceahlau, Neamt County
The Patron of the monastery: "Schimbarea la Faţă – The Changing of The Face – of Jesus" (6 August) and "Ştefan cel Mare şi Sfânt – Stefan the Great and the Holy" (2 July)
Year of construction: 1993 by Î.P.S. Daniel, The Chief of the Orthodox Church from Romania
Short history
Beginning with year 1992 I.P.S. Daniel began the construction of a monastery on the mountain Ceahlau near the refuge Dochia. The construction of the church is on a plane surrounded by high rocks. The church was finished in August 1993.
The church is made out of wood and has the shape of a cross. The construction materials were transported with the help and on the expense of the Romanian Army and Prince Dimitrie Sturza. The interior sculptures and icons were made with the expense of the Archbishop of Iasi, family Lancrajan Popescu and numerous donations. The sculpture was made by Professor Alexandru Hutanu and his team and the icons were painted by Vartolomeu Florea. The bell of the church was donated by the Monastery Sihastria. The electric connection of the church was accomplished by Ing. Constantin Apostol.
On the date of 28 August 1993 the church was sanctified by few high priests of the Orthodox Church.