Musatin Fortress from Roman – Neamt County
24 September 2009
No Comment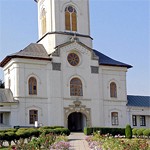 Location: the Musatin Fortress from Roman was built on the plane were today we can see the Archbishop Complex.
Built: we assume that the construction was made by Petru I Musat (1375 – 1391)
Short description:
The Musatin Fortess or The Fortress of Land is the oldest historical monument from the city Roman. Its existence is first mentioned on March 30, 1392 in a document from the ruler Roman I Musat.
From an architectural stand of point the fortress was built in the shape of a horseshoe, made out of wood and soil. The defense was secured by a trench that went all the way to the river called Moldova.
The existence of the fortress is short. The archeological diggings in the area revealed ceramic objects and representations that certify the fact that the fortress was abandoned around 1410, in the time of Alexander the Blessed. Today, here, we can visit the Archbishop Complex.