The Museum NECULAI POPA TARPESTI-NEAMT
24 September 2009
One Comment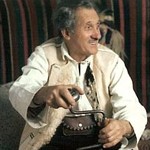 Address: loc. Tarpesti, village Pietricani, Neamt County, postal code 617317
Tel: +(40) 233 78 51 12 or +(40) 233 78 51 11
E-mail: [email protected] [email protected]
Web: http://npopa.uv.ro/
Founded: 1958
Category: Ethno
The Program for Visits: daily
Short desciption
Born on 13 August 1913, Neculai Popa is an exquisite artist and a passionate collector of traditional art and folk objects. The museum was founded in the 70' in his house. What you can see today, if you go there is one of the most interesting museums from Romania. Located in Tarpesti, village Petricani (near the town Targu Neamt), the museum is a part of an itinerary of those that also visit the Fortress Neamt, the Monastery Neamt, the Museum Mihail Sadoveanu and the Memorial House Ion Creanga.
The museum is formed by an old house and a special built place that hosts over 3000 objects, starting with Cucuteni ceramics and continuing with other art objects made out of wood, iron, coins, clothing.
The exhibition presents more than one collection organized on groups. We can see objects that are for house use, ornaments, icons, paintings, sculptures, masks.
Among the artists that are alive today, Neculai Popa is the one that has the biggest number of hobbies, starting from folk theater and up to wood sculpting. At his 90 years the artist still sculpts and he wants to rebuilt his shop and to restart sculpting in stone.
Photo Album
Click the images for a a larger version