Cheile Bicazului – Hasmas National Park
24 September 2009
No Comment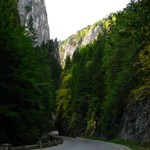 Location: Cheile Bicazului – Hasmas National Park is located in Hasmas Mountain, in the central-north-east area of Romania. The protected area is crossed by the road DN 12C which makes the connection between Gheorgheni and Bicaz
Geographical data
Geographic location: the central part of the Eastern Carpathians
Altitude: 670 – 1792 m
Area: 6,575 ha
Short description of Cheile Bicazului – Hasmas National Park

Thanks to the impressive size of this natural monument called Cheile Bicazului this is one of the most interesting areas of the country. The natural borders of this protected area are represented by the Suhardul Mare to the north-west and Suhardul Mic to the south-east. The rock formations from Cheile Bicazului were made in time by the brook Bicaz which carved the rock. This area is a protected one together with Lacul Rosu (The Red Lake), Cheile Sugaului, Hasmasul Mare si Hasmasul Negru.


The road that goes through the Cheile Bicazului is full of twists that take the traveler through places of rare beauty.
As the road goes up you can admire Piatra Altarului (The Altar Stone), Piatra Pintesilor and Piatra Arsitei. One of these stone walls host some of the most difficult climbing routes in the country – these routes are only for professional climbers.
Photo Album
Click the images for a a larger version
Click here to see all the photo albums
The vegetation from the park is in a proportion of 95% formed by spruce forests that are laying on the mountain Hasmas. We can also see beech trees and large mountain plains, peaks with sub-alpine vegetation. The plants species that are present in this area and that are declared protected species are: Papucul doamnei (The Lady's shoe), Floarea de colt (Edelweiss), Tisa and Sangele-voinicului (The blood-of-the-hero).
The fauna of the park sums a variety of rare species, that are important to maintain an equilibrium in the ecosystem.
The main touristic attractions in this area are the actual rock formations in Cheile Bicazului and in Cheile Sugaului, Lacul Rosu (The Red Lake), The Munticelu Cave, Cheile Bicajelului and the peak Hasmasu Mare. For those that love mountain hiking there are also 18 touristic routes to explore. you can also read the Romanian version of Cheile Bicazului – Hasmasu National Park article.