The Royal Court and Church from Piatra Neamt
24 September 2009
No Comment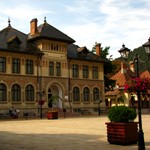 The church from "Curtea Domneasca" Complex, with the patron of St. Joan, was built by Stefan the Great between 1468 and 1475. Together with the bell-tower it forms an architectural complex that can be seen in the center of the town Piatra Neamt, in the Liberty Market.
From what "Curtea Domneasca" Complex once was, today are preserved only few elements: the church, the bell-tower and some of the royal cellars, where there is organized the Museum from "Curtea Domneasca" Complex. The importance of this historical place will start to diminish after the ruler Vasile Lupu, when they'll start to reorganize the entire complex and construct new buildings. In the year 1893, on the foundation of the former "Curtea Domneasca" Complex a new building will rise: The High School Petru Rares.
Right near"Curtea Domneasca" Complex we can see the church St. Ioan Botezatorul, which was built between 1497 and 1498. The building was made in the traditional architectural way of that time and it is considered a true piece of art and a great achievement. At the exterior of the church we can admire the contrast between the gray walls and the vivid colors of the bricks and glazed discs that are overlapping in a special symmetry.
The church hosts an impressive collection of heritage objects, that represents important religious values like: crystal chandeliers from Boemia (1837), the Icon of the Lord Blessing the Holy Grail, the Icon of Joan the Baptist, a silver cross from the XIX century and a series of old books. The recent archeological excavations revealed a series of graves, religious objects and ornaments that stand as a proof of the importance of this place during the time of Stefan the Great.
Together with the church St Joan, in 1499 the bell-tower was built. The tower has a height of 19 and it's made out of stone. It was used as a watch tower because of its location that permitted a clear view of the entire valley. The fortress near the bell-tower was built in the modern era.
As an interesting fact, inside the bell-tower of the church has lived for 26 years an elder by his name Gheorghe Lazar which represents the archetype of the true pilgrim.
Photo Album
Click the images for a a larger version