Vanatori-Neamt Nature Park
24 September 2009
No Comment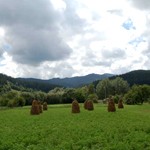 Location:  Vanatori-Neamt Nature Park is located in the north-eats of Romania, in the east side of the Mountains Stanisoarei and the Neamt Sub-Carpathians, in the north part of the Neamt County. The park stretches over few villages, like Cracaoani, Agapia, Vanatori-Neamt, the city Tg. Neamt and the resorts Baltatesti and Oglinzi.
Access ways:
– the nearest airport is at Suceava
– the entrance points in the parke: Magazia, Varatec, Agapia, Targu Neamt, Vinatori-Neamt
– coming from Piatra Neamt, on DN 15C Piatra Neamt – Targu Neamt – Vanatori – Neamt
– coming from Poiana Largului on DN 15B Poiana Largului – Vanatori – Targu Neamt
– from Suceava the access is made through DN 2 to Cristesti and then on DN 15 B to Targu Neamt – Vanatori – Neamt
– from Bucharest you take the road E85 to Roman – Cristesti – and then through DN 15 B to Targu Neamt – Vanatori – Neamt
– by train, from Bucharest to Piatra Neamt, then on DN 15 C Piatra Neamt -Targu Neamt – Vanatori – Neamt
The center of the administration:
– administrator: The National Forest – Romsilva
– address: str. Zimbrului nr.2, village Vanatori, Neamt County
– tel: +(40) 233 20 60 01
– web: www.vanatoripark.ro
– activities that are permited inside the park: research, education, tourism
Short description:
Vanatori-Neamt Nature Park is a protected area starting with the year 1998 and its main objective is to protect the population of bisons. The park streches over 30,818 ha.
The fauna of the park includes some rare species like the brown bear, the wolfs the bisons, the fox, the Carpathian stag and many more. The bisons are the symbol of this part of Romania called Moldavia. The tourists can see some bisons in "Dragos Voda" Fauna Reserve.
Over 100 bird species live in the park. The flora includes over 50 rare species that are protected by law. In the part of the park called Dumbrava we can see old oaks of over 150 or 200 years.
Natural reservations from Vanatori-Neamt Nature Park:
Copper forest – is situated on the hill Filiorul in the commune Agapia and includes over 300 plant species of rare beauty.
Silver Forest – is a composite reserve, forest and landscape and includes old trees older than 100 years.
"Dragos Voda" Bison Reserve – is one of the 4 existing reserves of bisons in our country and is classified as one of the largest reserves of its kind from Europe.
"Dumbrava" Oak Reserve
Photo Album
Click the images for a a larger version