Nechit Monastery – Neamt County – Romania
26 October 2009
One Comment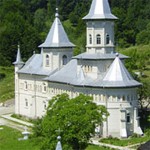 Location: The Monastery Nechit is located to 8 km from Borlesti, at 37 km SV from Piatra Neamt and at 35 km NV from Buhusi
Address: village Nechit, Borlesti, Neamt County
Tel: +(40) 233 297 422,  +(40) 745 852 242
The patron of the monastery: "The Changing of the Face" celebrated at 6 August
Year of the construction: built in the XIV century by the monk Nechit
Short description
The church from Nechit is built on a plane from the west side of the Nechit village and it's surrounded by woody hills. This place was chosen by the monk Nechit. He lived and prayed in these places and he is the one that gave the name of the village, of the river and of the monastic settlement. The first church was made out of wood and had as its patron St Nicolae and was known as the Hermitage Nechit. The church is mentioned in a document as being located on the valley of the Nechit brook between 1399 and 1419.
From the beginning of the XIX century and up until the year 1875, the Hermitage Nechit existed only because of the prayers and fatigue of the three monks that lived there. The first stone church was made in the year 1875 and so the Hermitage Nechit became once again a prosper monastic place. In the year 1969 is closed by force by the communists but it will be reopened in 1972 with just 2 monks by the endeavor of father Zenovie Ghidescu. These 2 monks contributed to the process of rebuilding the monastic settlement. They also repaired the church between 1972 and 1976. The nun Viorica Cretu from the Monastery Prislop painted the church in a neobizanthin style between 1975 and 1977. In the year 1990 a new chapel is built. For the pilgrims that come to this place the church built a new bell tower (1998-2001) that also hosts the chapel St Emperors Constantin and Elena.
From an architectural stand of point the church is made out of stone and brick with a clover shape. It has two towers, one of them being used as a bell tower. The wall that separates the altar from the rest of the church is sculpted from oak. The monastery has four buildings that serve as cellars and the Pilgrim House.
These days at the Monastery Nechit we also can find a true zoological garden: rabbits, pheasants, chickens, doves, cows, pigs, dears, a swan and peacocks. The abbot also wants to built a guest house, the fountain of St Chiriac with healing water and there is also the intention to organize school camps.



Photo Album
Click the images for a a larger version