The catholic church "St Queen Mary" from Tamaseni – Neamt County
26 October 2009
No Comment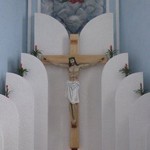 Address: village Tamaseni, Neamt County
Built: between 1956 and 1958 by priest Wilhelm Clain
Short description
Starting from the centuries XV-XVI the Catholics are mentioned in documents here at Tamaseni. Because of the Turks invasion and of the road to Poland, the people from these villages went into the forests near the river Siret where we can find the today location of the village. The first church was built in the year 1862 by the priest Valentin Ferenczy with the brick obtained by demolishing a big inn that belonged to the church.
The present church St Queen Mary from Tamaseni was built between 1956 and 1960 near the old church, in the center of the village. The new church was built from donations made by the people from Tamaseni under the guidance of the priest Wilhelm Clain.


The building was design by the engineer Ionel Demeter together with Iojă Lucaci from Sagna and made out of steel concrete and bricks. The tower of the church has a height of 50 m. the church has a length of 52 m and a width of 22 m.
The architectural style is a modern gothic one and the painting from the altar is made in oil by Bucataru Aurel. The dome of the church is painted by Negrescu Constantin and the side walls by Ioan Apostu. In the year 1985, the priest Ioan Simion remade the church in the exterior to match the new religious rules from Vatican.