The White Church St Lords from Roman – Neamt County
26 October 2009
No Comment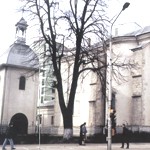 Address: street Veronica Micle nr. 7,  Roman, Neamt County
Built: in the year 1615 by ruler Stefan II Tomsa
Short description
The White Church St Lords from Roman was built in the year 1615 by the ruler Stefan II Tomsa and restored in the year 1695 by Vasile Cantacuzino. The holly place is located in the center of the Roman city and impress through its massive proportions. The name of the White Church comes right from its origin. The building is under this form from 1695 when the old church was restored.
From an architectural stand of point the church is built in a clover shape. The walls are from stone and are 1,5 m thick and 14 m high – the church is the tallest religious building in the city of Roman.
The wall that separates the altar from the rest of the church is unique and it's made from solid oak with a length of 8,2 m and a height of 9 m. the sculpting is truly special and represents flowers and grapes. This work was made in the year 1922 and it impresses through the richness of ornaments and the chromatic diversity from the paintings of Ludvig Braner.
Although the church was the subject of many works of restoration over the time, the original shape and the original architectural elements were kept.