Touristic route in Cheile Bicazului – Peak Suhardul Mic
26 October 2009
No Comment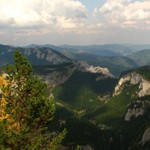 To climb on the peak Suhardul Mic (The Peak Little Suhard) and to reach the belvedere point from where you can see the entire Lacul Rosu resort you can go on the to the touristic route marked with a blue triangle on a white background. This route starts in the resort Lacul Rosu and goes toward the Bucur Vila, Suhard Cabin, Saua Suhard and up to the wooden cross on top of the Peak Suhardul Mic, at an altitude of 1345 m. the route is accessible to all tourists and has a length of almost 3 km.
The starting point is near the Restaurant Lacul Rosu, at approximately 200 m from the road DJ 12/C. From this point you go up on a forest road fill with tight curves up to the Bucur Vila, which is the first construction for touristic purposes in this area.
The road becomes a trail that takes us around the peak Suhardul Mic. At the base of the rock wall there is Saua Suhard filled with green pastures and colorful flowers. This is also the starting point for some climbing routes. We go around the peak and enter the forest.
The trail becomes abrupt and it's filled with the routes of the trees that are forming some kind of stairs. The scenery is strange but the routes and the rocks help us to go up. After this difficult part you are almost on the top of the peak. The trail becomes easier to walk and suddenly you realize that you are on top of Peak Suhardul Mic. The view is breath taking. The wind is strong and your footsteps stop. Only when you are up there with all that view around you you'll truly appreciate this touristic route to peak Suhardul Mic.


Photo Album
Click the images for a a larger version