Lake Batca Doamnei
23 November 2009
No Comment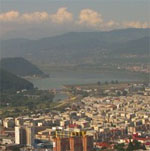 Lake Batca Doamnei is located at an altitude of 325 m and represents an important element of the town Piatra Neamt, because it offers a great belvedere point. From here you can see the beautiful view of the town and the splendor of Ceahlau Massif.
The lake was formed in 1962 by blocking River Bistrita and it has a surface of 235 ha, a maximum length of 3200 m, a maximum width of 1050 m and a maximum depth of 15,5 m. this lake is filled with water from the dam Lake Izvorul Muntelui. Near the lake we can see Batca Doamnei Hill where you can see the ruins of "Petrodava", an ancient Dacian Fortress.
Lake Batca Doamnei, together with Lake Pangarati and Lake Vaduri, represents a special protection area for the birds that are migrating through here. Because of this the lakes are very important for the local ecosystem. The birds come here because of its large surface the lake presents.