Pangarati Lake – Neamt County
7 November 2009
No Comment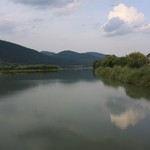 Geographically speaking, the Pangarati Lake is located on the transversal sector from the Valley of the Bistrita River at an altitude of 370 m. As natural borders we see the Stanisoarei mountains to the north and the Gotmanu mountains to the south. The lake was formed in the the year 1964 on the river Bistrita and is the first dam-lake located up from the Dimitrie Leonida Hydro from Stejaru. The water from this lake comes from the lake Izvorul Muntelui and the river Bistrita.
The Pangarati Lake was for producing electrical energy and the institution that harvest that energy was S.C. Hidroelectrica S.A. from Piatra Neamt. This lake is a protected area from 2004. The lake has a length of 3700 m, 730 m wide and a maximum depth of 14 m.
The lake represents an important place where many migrating birds are stoping by, because of the rich food that its waters provide. It also represents a vital link in maintaining the natural habitat: plants, fish, birds, small animals. Many species of birds can be seen on the surface of the water but the most known ones are some species of big ducks, ringing ducks, swans and silver seagulls.
To be able to enjoy the great view of the lake you'll have to make a stop in a belvedere point that was specially arranged for this purpose near the road that goes from Piatra Neamt to Bicaz.



Photo Album
Click the images for a a larger version