Romanian Tourism Fair – The XX edition – 23-26 October 2008
7 November 2009
No Comment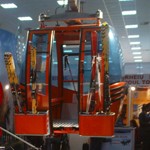 Neamt County Council, together with Piatra Neamt City Council, was present at the XX edition of the Romanian Fair Tour that took placed between 23 and 26 october 2008, in Bucharest.
The Stand for the Neamt County impress everyone through its originality with the cable railway booth and the spectacular images of Ceahlau Massif, Bicaz Gorges, the monasteries and the Ski Slope from Piatra Neamt.
The official opening, on 23rd October, was attended by local authorities from Neamt – the President of Neamt County Council Vasile Pruteanu, the Mayor of Piatra Neamt Gheorghe Stefan, tourist operators and businesses and the actress Draga Olteanu Matei.
After the official opening of the Fair there was a short celebration ofthe  Day of Neamt County where the guests watched two presentation movies for Neamt County.
Photo Album
Click the images for a a larger version