Romanian Touristic Fair – The XXI edition – 19-22 March 2009
7 November 2009
No Comment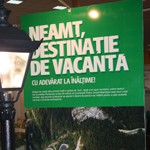 The Neamt County Council, together with the Piatra Neamt Town Council and the Chamber of Commerce and Industry Neamt, was present between 19 and 22 March at the XXI edition of the Romanian Fair Tour organized in Bucharest, at Romexpo.
Holiday roads in Neamt was the theme of the Neamt County at this edition and the focus was on the European projects finalized in Neamt County, on the facilities of entertainment present here. On the latest participation on a national Fair Tour the accent was on the cable railway. This year was the turn of the Neamt Stronghold to shine and draw eyes on this beautiful place.
After the official opening the Minister of Tourism Elena Udrea visited our stand together with Minsiter for Youth and Sport Monica Iacod Ridzi.
Among the visitors, the stand of the Neamt County received some special guests like the actress Draga Olteanu Matei, the actor Vasile Muraru, the fashion creator Irina Schroter, Doru Simovici President of the Romexpo and local authorities from Neamt: the President of the Neamt County Council Vasile Pruteanu, the Mayor of Piatra Neamt Gheorghe Stefan.
Photo Album
Click the images for a a larger version